Herbs are not just fantastic ingredients for kitchen enthusiasts, but they are likewise fragrant and beautiful items for overall home decoration. Here are some smart ideas on how to make use of live herbs for styling your dwelling place.
Hang potted herbs vertically like a wall décor.
This a surefire way to create a little green garden without having to fuss about yard space. If you have a wall with open air and sunlight – perhaps in a balcony or doorway – then you simply make vertical garden installation for little potted herbs.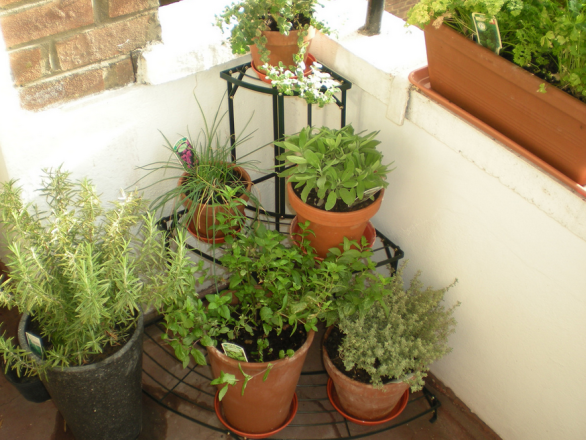 Make an herb garland.
This one is pretty for just about any occasion whether it is Christmas, Valentines, wedding, or anniversary. Match the aromatic trail of greens with little blooms of lavender, Thai basil, dill, rosemary, Greek oregano, and even spearmint.
Create a bench isle with herbs at the center.
If you are lucky to have a yard, then surely you will have benches or seats for entertaining guests. Customize the benches such that the seats surround a mini bed of herbs.
Place mini potted herbs inside toilet rooms.
Let the dainty aromas of your choice herbs fill the toilet space for a homey feel.
Put potted herbs on counters, tables and other surfaces.

Live plants evoke a warm feel inside a home, making it more comfortable.
Make a faux kitchen drawer and fill them with your favorite herbs.
This makes cooking more fun and engaging. But do not forget to take the herbs out for some rain and sun to keep them lush.
Create a bouquet of fresh herbs.
This is great for everyday surprise or gift giving. Compliment the greens with some reds, purples or yellows of either fruits or flowers.
Make a centerpiece of aromatic herbs.

As an alternative to the usual floral centerpiece, a lovely arrangement of assorted herbs will create a fresh and fragrant decoration to the dining table.
You can also attach sprigs or bunches of herbs to chairs, make them into boutonnieres, or card accents. Decorate cakes and drinks with sprigs or confetti of herbs for that country feel and look.
These are just some of the many ways to decorate your space with herbs. Try these at home for that aromatic, homey feel.