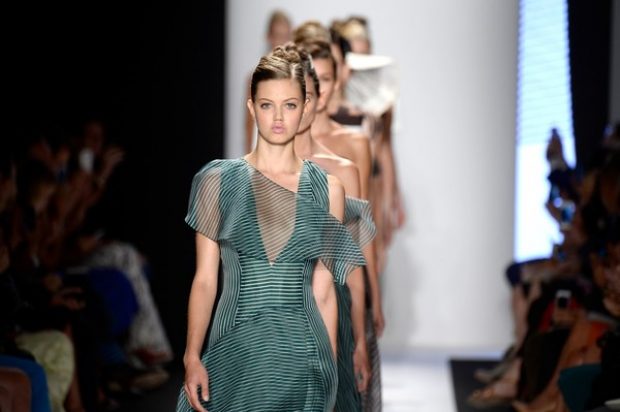 She modeled on the catwalks of New York Fashion Week 2013 for spring-summer collection 2014 Carolina Herrera. All photos of celebrities in the front row, backstage and fashion show are from Deluxosphere.
Carolina Herrera built his collection for spring-summer 2014 around the kinetic art movement, which is based on movement, in particular on the work of two artists Venezuelan Carlos Cruz-Diez and Jesús Rafael Soto.
Of course remains the signature elegance of Carolina Herrera, but in this collection have infused many artistic references. In the first place, through the prints, such as in a series of models where the strips have an optical effect and are applied on long gowns organza.
The second kinetic effect is layering, with many dresses playing with fluffy organza, some add depth and dimension to optical prints, and others sported geometric embroidery and jewelry. The color palette plays with ivory, clay, green and purple, the collection as a whole has a very understated bohemian sensibility.
Among the celebrities present at the parade Christina Ricci, Uma Thurman, Coca Rocha, Dita Von Teese, Michelle Dockery.