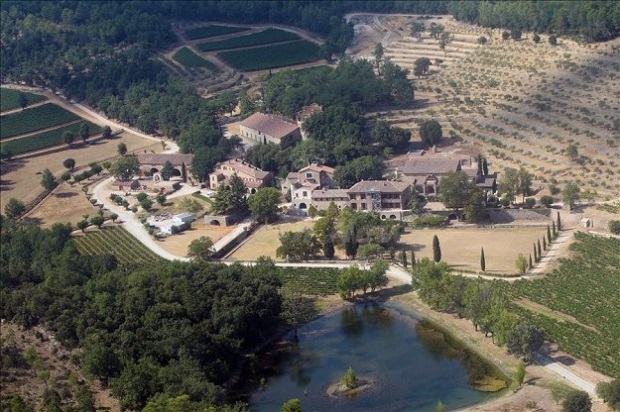 Angelina Jolie and Brad Pitt known to all as Brangelina, cannot boast about a villa but a real castle between their properties. It's not like the typical homes of celebrities including villa pools in the most desirable locations, but a residence of high birth to the couple which they seems very attached to, so as to also think about a fairytale wedding in style happening there, if and when they decide to get married. Obviously there is not only the castle of Miraval in the south of France between the houses of Angelina Jolie and Brad Pitt. Do not forget the villas throughout the United States where the couple took refuge with their six children between takes for films.
The rumors on the marriage of the two movie starshave been around for a long time, always with confirmations and denials. The latest reports speak of a date rather close, in May 2013, with home the castle of Miraval in Provence. The mansion was purchased by the couple for a value of € 35 million. It consists of almost a thousand hectares of land and an estate consisting of rooms and secrets, as required by each castle, but with charms between outdoor and indoor gyms, a moat with streams and hidden tunnels and lush vegetation of trees that should be the safest protection from journalists and paparazzi. What really fascinated Brad Pitt about the castle was the ability to give himself to wine, launching the Miraval Rosé wine produced from the grapes of his estate. A newspaper specialized in Wine has relaunched the news of the wedding that will take place right in the French town.
The castle is a veritable fortress ideal for keeping children safe. It appeared for the first time in the papers in 1200 as a monastery and over the centuries has seen real characters of history. Nestled in the woods of oak and pine trees, vineyards and the typical landscape of Provence. The home has 35 rooms, private pool, private airstrip for helicopters, a private lake and now a small zoo. Like all celebrities with children, dad Pitt has also thought of all six children and the castle of Miraval has set up a small zoo of animals of the country to the most exotic to give a little extra fun to the family.
Among the characters that have stopped or lived here one of the names mentioned is that of Thomas Aquinas the Prince of Naples. In fact there have been so many changes in ownership. There was also a recording studio created here which saw the work of artists like Sting, Sade, The Cure and also Pink Floyd that recorded the album The Wall here faster. Today it is the turn of the celebrities most loved and envied, Brad Pitt and Angelina Jolie's turn should they decide to crown their dream of love after eight years and six children.