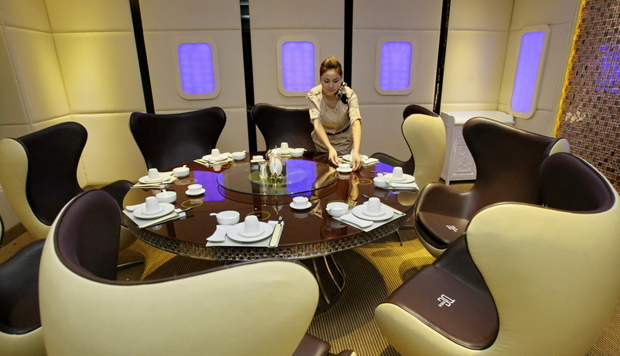 Who loves to travel on a luxury aircraft and eat delicious dishes during the flight? To overcome this "inefficiency" in China comes inspired a restaurant called Airbus A380 in Chongqing which is designed as the interior of the plane with all the details, from chairs to runners. Unlike real aircraft, however, is firmly anchored to the ground which allows the cooks to have fun in the kitchen and serving dishes to high class customers. The restaurant in tribute to the greatest passenger plane in the world promises good food and atmosphere "in the clouds".
When it comes to luxury restaurants often many people think of exceptional locations to ensure a special dinner to their guests. In Milan, for example, there was the Cube, temporary restaurant directly overlooking the spiers of the Duomo, and also in Asia, there is a restaurant with a look like hotel rooms trying to impress with proposals outside the box.
Among these is certainly the new restaurant in China, made with plane windows, adjustable seats and lighting directly inspired by the Airbus A380. Also the staff consists of 18 people who are trained as flight attendants. The room has large bay with the ceiling to create the atmosphere like being in the air and guests can enjoy the chef's specialties. Of course the prices are different from those at usual "on land" restaurants: the most expensive menu is at about $ 1,590. But don't forget that it give the feeling of being in the clouds!