Cycling is an outdoor sport that can prove more dangerous or risky during extreme weather, or just winter. The excitement and adrenaline caused from cycling can be exhilarating, but it gets a bit more challenging in colder weathers, with icy, slippery roads and poor visibility.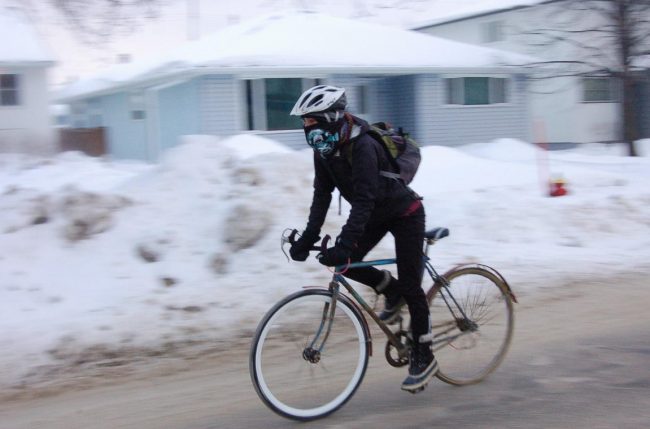 Your health and safety should be your top priority when venturing out in the winter for cycling. So, after you choose the most comfortable bike for your ride or daily commute, here are the tips you need to keep in mind for safe ride:
Ensure Visibility
One of the very first safety precautions you should take is to ensure you are visible, in some way or the other. Remember you are not the only road user, and other users are also suffering from poor visibility and unpredictable roads. Reinforce your bike with lights that alert other road users to your location and direction.
Stay Warm
It is absolutely vital for your health to keep warm and dry while cycling in the winter. Carefully outfit yourself in insulated layers and waterproof clothing. Don't forget the gloves and eye protection, too. Present at the front of your mind should be your choice in footwear. The last thing you need is your feet going numb as you cycle. Wear waterproof shoes to eliminate chances of soggy shoes and socks. You have to be careful not to be too warm, though. You could be in danger of becoming overheated as you ride is you are already too warm as you step outside.
Ensure Proper Bike Maintenance
A thorough bike check-up is crucial in the winter. Even if your bike has been pronounced in tip-top shape at your regular check, you should schedule another one if you plan on cycling in the winter. Things to check include your tire pressure and functional fenders. Keep your bike as clean as possible in this period with regular washes and proper sheltering. Remember that salt is an effective corrosive agent against your bike's body.
Be Weather Conscious
Prior preparation is a must, especially in the winter. Preparation does not involve just spare gear and proper clothing. Familiarize yourself with your planned routes, and check the weather for the day before heading out. Calculate your estimated time of arrival at your destination to know if you might run into any weather snags, and make adequate preparations.  This way, you might also have an idea of what the weather would be like for your return trip, and make adequate planning. Stay prepared for any sudden and unexpected changes in the weather, and if you feel overwhelmed by any situation, don't hesitate to park and wait out the weather.
Ride Carefully
All of these tips are vital for your safety in the winter, but the ultimate safety tip is to ride carefully, and with the other road users' safety on your mind. Remember that winter conditions are more unpredictable and hazardous than cycling any other season. Pedal carefully; keep in mind that the roads and your pedals get a bit more slippery with the cold. Brake more often to clear your rims and avoid treacherous puddles.
Be even more careful when cycling in poorly lit or obscured conditions as motorists may have trouble spotting cyclists.
If you are a man, you can choose from this vast collection of men's bikes for your winter biking.