If you're interested in luxury interiors and have long been intrigued by what lies behind the walls of Mayfair's most desirable properties, then keep on reading. We've identified the 'must see' aspects of an award-winning penthouse in one of the UK's most sought-after postcodes, in a bid to provide inspiration for lovers of luxury. Completed by designer Fenton Whelan, the five-bedroom 'Greybrook house' penthouse demonstrates what is required to be crowned 'best residential design over £1M.'
Cocktail Bar
Set against backlit onyx, this statement feature oozes style and sophistication, setting up the space for hosting and entertaining. The subtle light that radiates from behind the stone illuminates the eclectic mix of cocktail glasses, inviting you over for a drink, or two!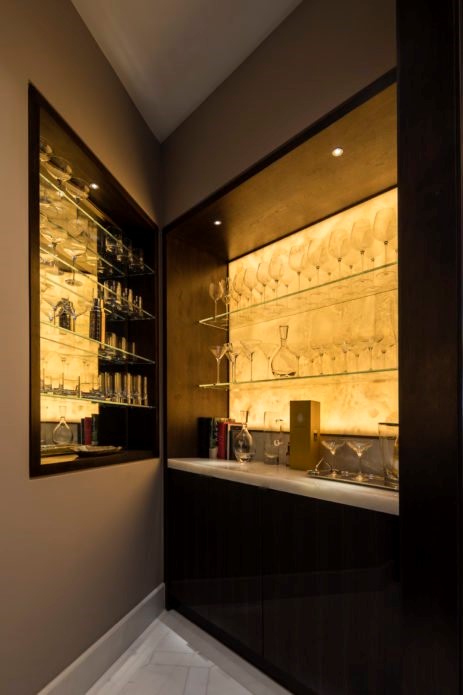 Roof-terrace
Set against the London skyline, this large, fully furnished terrace provides an ideal space for enjoying the capital's warm summer evenings. The penthouse benefits from an additional terrace to the side of the property, providing the opportunity to make the most of one of the biggest trends in contemporary living, indoor, outdoor space.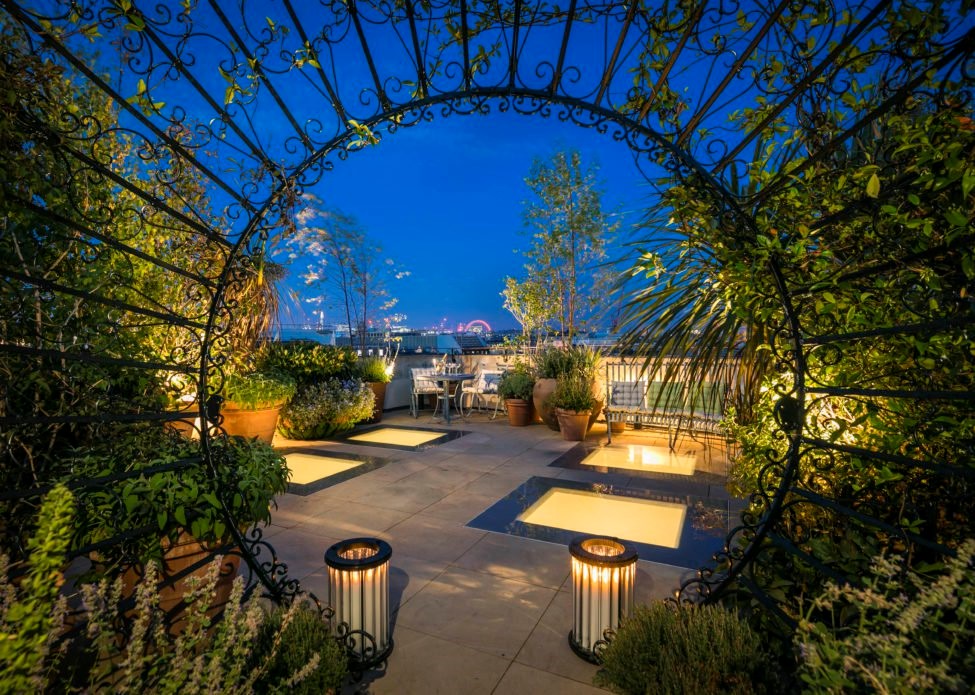 Location, location, location
Mayfair has long maintained its reputation as home to some of London's most desirable properties, with this Grade II listed penthouse duplex being no exception. Leading property experts in the Mayfair area and agents for this sale commented that 'even when the property market in other areas may seem unpredictable, you can always be assured of world-class design and opportunities in Mayfair.' This boutique residency demonstrates just that.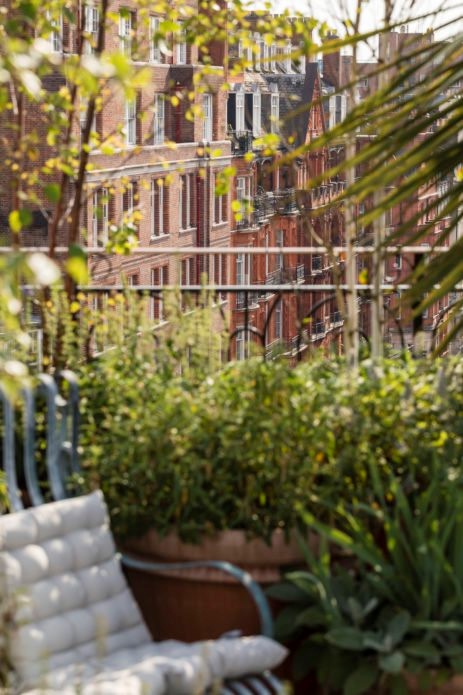 Fireplace
This dramatic bronze and glass finish fireplace serves a dual purpose; functioning as both a design statement and adding subtle structure to an open plan space. It effectively creates a focal point, which divides the living and dining space.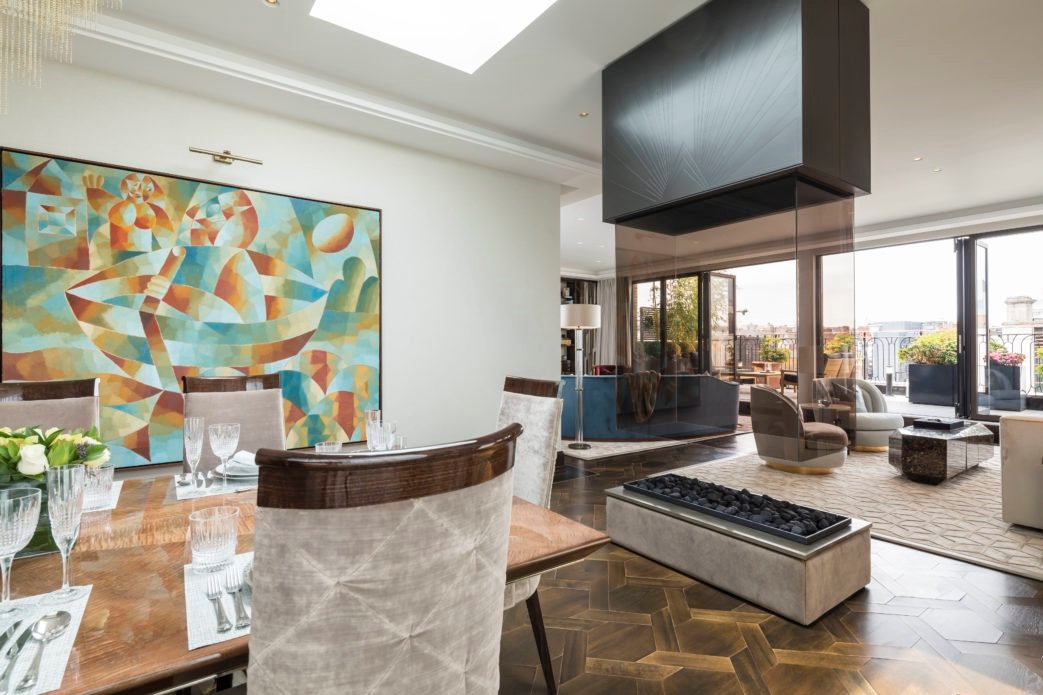 Use or marble
Timeless, luxurious and opulent, marble is a material consistently used throughout this property, to great effect. From the kitchen, where a Taj Mahal marble island creates a focal point for the space and is complete with 1930's cocktail bar inspired bar stools, with a gold metal finish and white upholstery, to the bathroom where a black marble soaker bath creates a space designed with indulgence and relaxation in mind.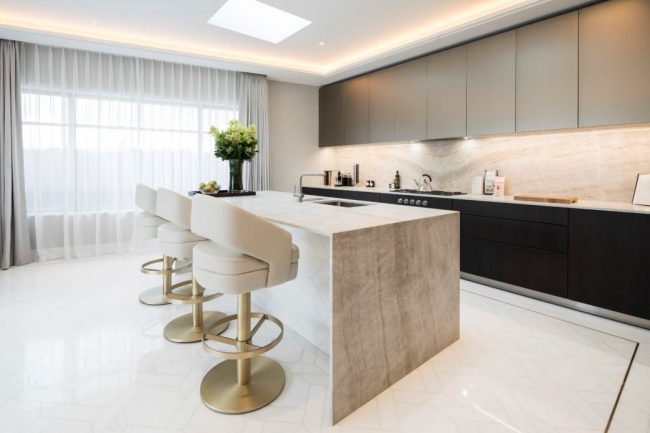 Period features
Fenton Whelan paid close attention to the history of the property, making gestures at its art-deco design and ensuring that contemporary features were interwoven thoughtfully. Whilst this property is very much designed with modern living in mind, additions such as the design of the lacquer-finished wardrobes and the use of pattern throughout the property do pay homage to the art-deco movement that inspired its original architects.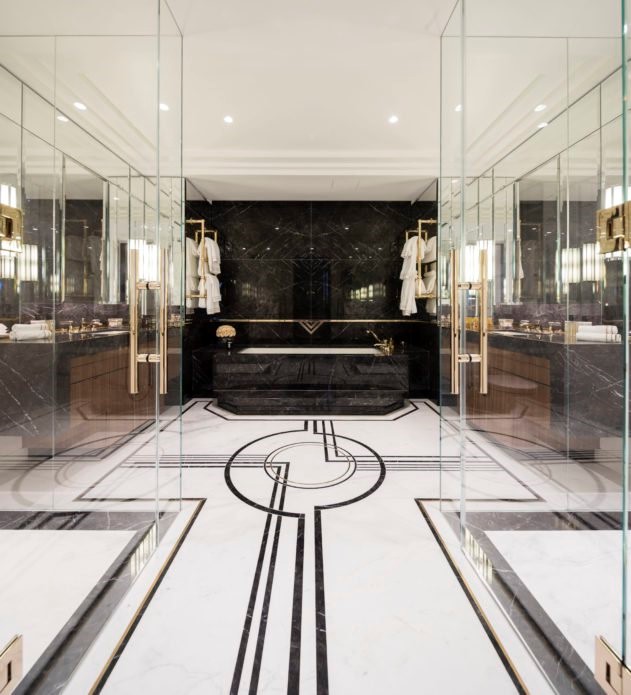 Colour combinations
Neutral tones are used throughout the property, ensuring a light, open and contemporary feel. Depth and character are injected through the use of different textures and materials, which also add to the overwhelming sense of grandeur within the space. Pops of colour are used effectively to add some variety to the otherwise neutral interiors. For example, cool green upholstery completes the breakfast room, making a feature of the space.