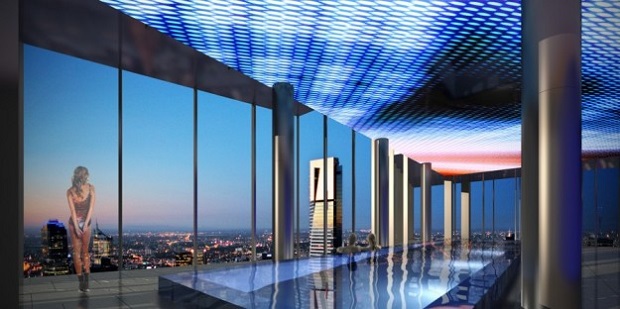 Need to escape? Here is the new great project of Australian luxury that will make you dream. Intended to change the skyline of the city of Melbourne, Australia 108 futuristic skyscraper will be the tallest in the southern hemisphere.
Architects
Located between the City Road and Southbank Boulevard, it is perfectly set amidst restaurants and entertainment venues. The skyscraper steel and glass will consist of 108 floors and will rise to 388 meters into the sky. Planned for 2018, it is a creation of the team that is also responsible for the iconic Eureka Tower also in Melbourne. The design of the building was created by the visionary architects Katsalidis and Fender who bought the land in 2008 for 14.2 million dollars.
Luxury apartments and six star hotel
Australia 108 will have 646 luxury apartments, a six star hotel with 288 rooms, more shops and offices. The luxury homes in Australia 108 will be designed to offer a perfect brightness and the best views of the city below due to the angular positions and windows from floor to ceiling. The types of properties range from studio to 3 bedrooms for $ 775.000. There will also be customizable penthouses on the top, the price of which however is confidential. The owners of the apartments will have the unique opportunity to enjoy the facilities of the prestigious high class hotel. The hotel will occupy 18 floors, 83 to 101 and will have a separate entrance and private elevators. The majestic double atrium 83rd floor has two restaurants, two bars and a lounge while on the 84th floor you will find the swimming pool and spa.
Star Bar | A new exclusive restaurant
The last floor of the skyscraper will offer a unique feature. In fact, the 108th level will be suspended between two pillars. That's where the Star Bar will be located, a glass room with breathtaking views. Destined to become one of the most spectacular meeting places of the city, the intimate Star Bar will undoubtedly be a favorite destination for residents of Australia 108 and their guests. Recall that the tallest building in the world at the time is the Burj Khalifa in Dubai a full 828 meters while the tallest skyscraper in Europe is the Shard in London of 310 meters.