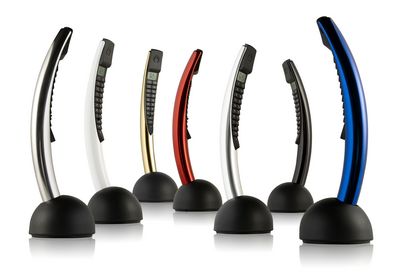 BeoCom 2 is one of the icons of design of Bang & Olufsen of all time. Made from a single sheet of aluminum, the receiver rises from the base with a gentle curve and challenges all the conventions of the design of a phone. For its extraordinary appearance, BeoCom 2 is unlike any other cordless telephones.
Extremely elegant: perfect for your Christmas gifts, BeoCom 2 is now available in a range of new colors with more character and punchier than the previous ones. The new series includes seven bright colors. The blue, black, gray, yellow and natural aluminum (silver) already present in the range has been polished and made ​​more intense for greater expressiveness.
The shiny appearance is already represented in the range of white BeoCom 2which has been launched recently. Among the new colors is also available a version of bright red color, perfect to put under the tree.
In addition to giving depth and splendor to the unique design of BeoCom 2, the strong and vibrant colors harmonize with the other colored aluminum Bang & Olufsen BeoVision 7 as the red or the blue BeoLab 6000. The seven new colors are characterized by certain exclusivity typical gift with a look to the future.