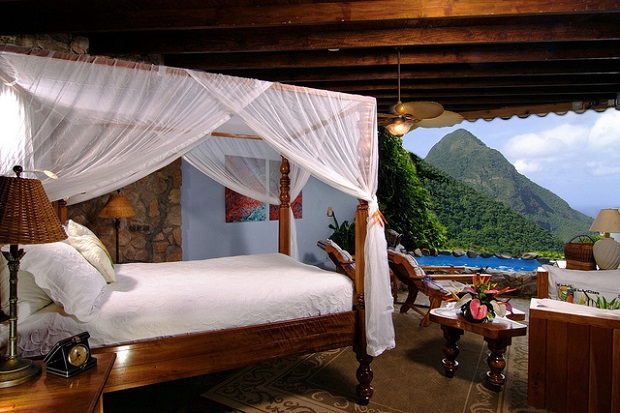 The beauty of the Caribbean lived in the luxury of a five star resort. The Ladera Resort in St. Lucia can be described with that simple sentence. The resort is located in the mountains open to the splendor of the Caribbean Sea overlooking some of the island's natural beauty such as Sulphur Springs, Soufriere Volcano and Petit Piton World Heritage Sites. From an old cocoa plantation, Ladera Resort has become one of the most sought after accommodation with the ability to integrate the lush nature with modern conveniences to create rooms and suites where you can forget the stress and everyday life. The Caribbean remains one of the most popular tropical paradises. What helps in that are the sun, sea, breathtaking landscapes, vivid colors, new scents, creole and mestizo cultures that links to Europe and America.
The 32 suites at the resort have been made in the same style. Local tropical woods, stones and tiles made by artists of the island with the French colonial style inspiration of the 19th century. Each room features local artwork and overlooks the most beautiful views of the island as the Pitons. Services from five star accommodation for all who reach the top in the Suite at Paradise Ridge overlooking the sea which is also open on the two volcanoes World Heritage Sites by UNESCO. The suite has a private pool from which you can enjoy the colors of the Caribbean Sea with outdoor patio where you can lunch and dine in privacy.
The food and wine offered is also appropriate to the highest standards. The restaurant's kitchen headed by chef experts leverages the wealth of the region and the island creating menus to satisfy even the most demanding. Traditional Creole dishes with ingredients brought fresh daily from local producers or the ability to order a private dinner for two are part of the luxuries available. The resort also offers courses and cooking classes for guests who want to discover the secrets of Caribbean cuisine.
For the body and the mind the spa is inspired by the volcanic nature of the island and the tropical forest rich in scents and perfumes, plants, flowers and fruits which invite you to unwind from the stress. Massages, beauty treatments, relaxation in the hands of the staff of the resort and more await you. The Ladera Resort is a little gem nestling in the Caribbean in which you live according to a different rhythm immersed in music, in nature, in the colors and scents of the small, beautiful island of St. Lucia. If you are looking for an excuse to escape to this tropical paradise think of it as forgetting about everything and everyone and think only of yourself.
Ladera Resort photos: ann7106, resorttothebest, OffbeatTraveler.