So you've landed well and safe in the Land of the Morning Calm. Now you need to grab a bite to get ready for some sightseeing and touring. With the varied choices that include chicken soup, Korean barbecue, Korean fried chicken and of course, the popular Kimchi, here are some eating establishments we'd recommend to any tourist- local or foreign.
Hong Gi Wa Zip, 347-29 Seogyo-dong, Mapo-gu, Seoul
Plenty of locals frequent this restaurant and that says a lot about their food. It's a homely place in the Hongdae area and serves classic Korean dishes such as Takdori, Posam and Kamjatang. Prices start at 25,000 won.
 
Lepure Café at 1F 534-8 Sinsa-dong, Gangnam-gu
For those with sweet tooth, this café's dessert selection will surely satisfy your cravings. Their dessert menu which is inspired by Japanese cuisine includes:
– Strawberry Short Cake
– Chocolate Roll Cake
– Cheesecake and Chocolate Tart
With an equally impressive list of organic juices on offer, this café will certainly fill your thirst quickly and will get you back to your touring activities.
Han Chu Korean Fried Chicken, 549-9 Shinsa-dong, Gangnam-gu Seoul
This is where most tour guides will point you when it comes to the best fried chicken in Seoul, Korean style. Unlike other fried chickens, the one served at Chu Korean Fried Chicken Restaurant is more on the spicy side (of course) with bits of tanginess. Will go very well with a cold Korean beer.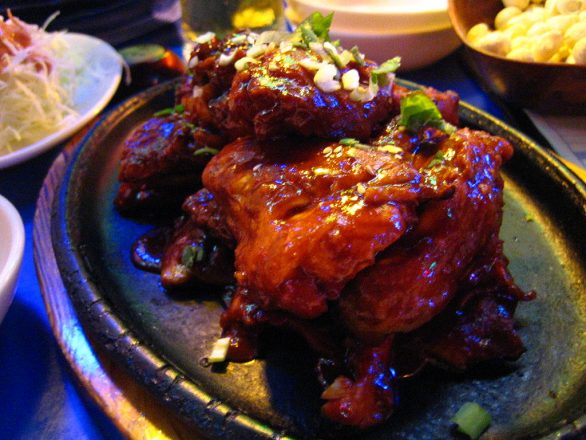 Sigol Bapsang, 738-17 Hannam-dong, Yongsan-gu
Last on our last but not the least, this is a favorite by many tourists who have tried their modern and traditional dishes. So they go back for more and sample as much as thirthy banchans. The setting is lovingly rusting with the charm of old Korea. And if you are one of those types who prowl the streets at night, you can easily dine here as they are open 24/7.