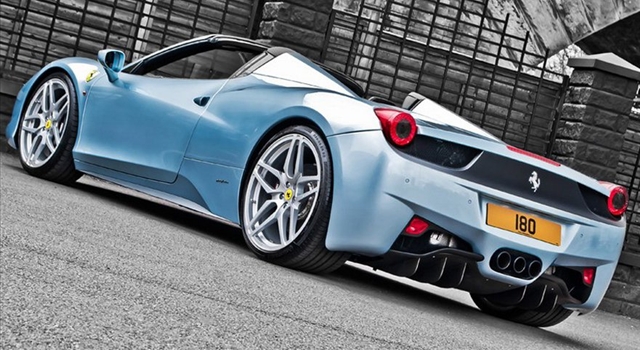 The British tuner Kahn Design made reality to put their signature on one of the current Italian GTs: the Ferrari 458 Spider, which comes just right – as we approach the summer – for fans who, if their wallet permits and want to give a additional dose of character to the spider Maranello. The drafting was presented recently, in an ideal straight line which follows the two versions of the 458 Italian factory of Bradford which was set in early 2012.
As for their previous accomplishments, even in the Ferrari 458 Spider Kahn Design has chosen a preparation which aims an essential aesthetic (without overburdening the precious lines of the car body, to avoid the risk of falling into bad taste) and leaves unchanged the setting powertrain, which preserves the more than adequate 570 hp and 540 Nm of torque guaranteed by the 4.5 V8, which allows the Spider to go at a top speed of 320 km / h and acceleration from 0-100 km / h in 3.5 seconds.
The body, which in the sample object images is official declined in Grey Alloy, highlights some chrome detailing on the front (visible in the frames of the lower air intakes), finished in matt black with rear air vents plus center speakers and brake calipers painted in black. Additionally, always at the rear, the choice to expand the homogeneity of the air intakes beside the lights with the staining in matte black bodywork portion of fitting is also energitic: a appreciable solution which, in a sense, recalls the Ferrari 360 Modena. Almost unchanged is the setting of the cabin, where the British tuner is limited to change the finish of the series, with elements in black.
The Kahn Design Ferrari 458 Spider "package" includes, at the option of the customer, the ability to add a lowered suspension kit – so as to maximize the power output of the car – and a set of circles (in this case, the "Monza "made by the same ad hoc Kahn) 21″in front and 22 rear, in place of those 20" tires. These circles indicate that the Kahn Design can be painted on each customer's specifications.