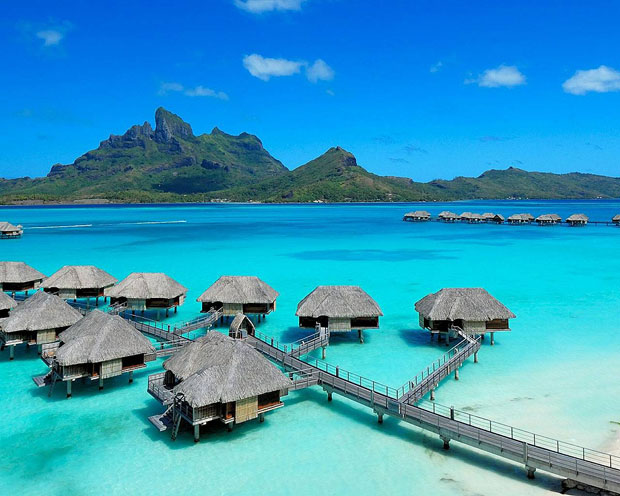 The winter is almost over and after all the cold wheather it would be great to have a vacation in a tropical paradise like in Bora Bora, Tahiti. If you want a five-star accommodation to spend a dream holiday, you can play it safe with the Four Seasons Resort Bora Bora, a pearl-luxury resort overlooking one of the most beautiful seas in the world. The island is part of the Society Islands, 250 km north-west of Tahiti, and is one of the most popular destinations for tourists from all over the world who can experience all the beauty and majesty of French Polynesia. The resort group Four Seasons is one of the most popular and sought after beach-front villas, restaurants, bars and spa where you can heal body and spirit. In short, everything you need for a five star holiday.
The tropical paradise is home to some of the most beautiful resorts in the world where nature becomes the protagonist in a unique mingling between internal and external structures minimally invasive on the landscape and life of the islands, which are fitted with a choice of local architecture and design and do not give up the tranquil atmosphere.
The Four Seasons Resort Bora Bora combines all the features that you are looking for a holiday away from everything and everyone. The resort has 121 facilities including seven villas that extend along the private beach: they are the bungalows overlooking the sea, directly on the ocean, with private pool or with a breathtaking view of Mount Otemanu. All rooms are achieved in accordance with the local style, with spacious interiors and the use of natural materials like teak or leaves that cover the roofs. The best villa is the Otemanu villa with three bedrooms, private pool and a private garden of 200 square meters.
For those looking for a place to recharge the batteries and take a breather, the spa at the Four Seasons Resort is the perfect place: a massage session with the local natural ingredients such as Monoi oil or vanilla, holistic treatments and invigorating, turkish bath and hammam, sensory journey or a dip in the outdoor pool. All overlooking the beautiful tropical nature, surrounded by tropical trees. Also focus on whims and pleasures of the four restaurants and bars where you can taste the flavors of the South Pacific enjoying the breathtakin views. Two romantic dinners while watching the sunset, or greeting the day with a breakfast on your feet in the warm waters. Everything you need and want for your dream holiday.