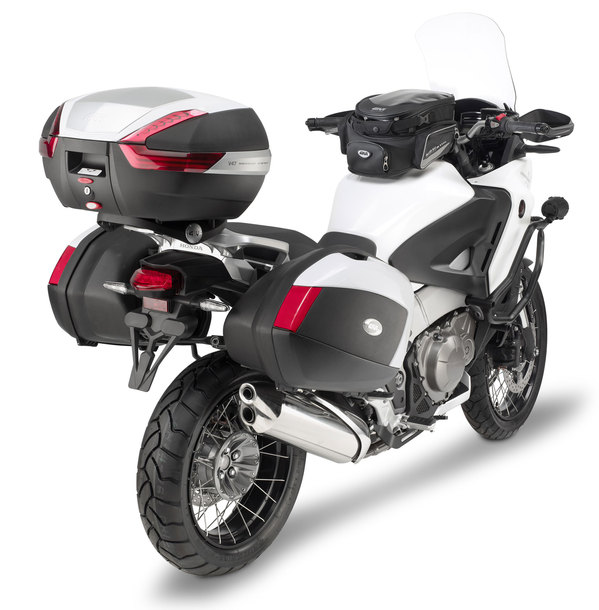 Try to integrate a top case in the line back of a motorcycle, getting a gratifying result to the eye is and will always be a difficult task. Givi knows that the trunk has pretty much spread at the global level that continues to experience new forms and materials. The result obtained with the new V47, the latest evolution of design related to this product category, exceeds expectations and stands a step above the current standards. The R & D of GIVI has created a shape that allows for a compact space to be able to accommodate two modular helmets (notoriously more cumbersome integrals) of any brand. In the picture is shown on the new Honda Crosstourer, but the V47 is "coupled" gladly also with representatives of the sector maxi-scooters.
Technically, the top case is part of the Monokey family which has a capacity of 47 liters and is capable of supporting the march – in complete safety – baggage up to 10 kg of weight.
The highlighted structural features are:
• The presence (standard) of an aluminum cover "sunk" at the center of a black frame, replaceable by choosing from the available color palette (optional) to do pendant with the livery of your vehicle.
• The all-new hinge system, developed in GIVI, allowing you to close the lid with a push as it is done with the hood of the car.
• New seals that increase the degree of water resistance.
• The new Security Lock
The V47 brings a panoramic point with it numerous optional accessories. To cover in color  the system(38 Euros) are added: the kit for the remote opening E132 (70 euro), the backrest E134, (price upon request), the kit brake lights additional E135 (price upon request).