The Pen of the Year (2016) by Graf von Faber-Castell is a tribute to the Empire of Maria Theresa of Austria. This model is inspired by the art of Chinese lacquer decorating the famous Vieux-Laque Room in Schönbrunn Palace, Vienna, commissioned by the ruling, to secure the permanent memory of the late husband Francis Stephen of Lorraine.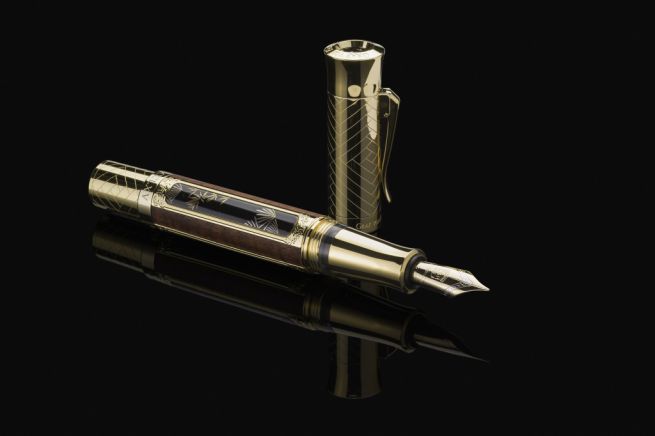 In the writing instrument of which we are concerned, we perceive a touch of the East, combined with the best German craftsmanship.
To realize the design of the Pen of the Year 2016 two prominent names were involved: Silvia Miklin, the restorer of Room Vieux-Laque, and Tomizo Saratani, Japanese artist specialized in Maki technique, a traditional type of lacquer.
From their collaboration was born a divided decorative pattern in three parts which, when combined, create a single decoration.
Through a demanding manual process, each of the three black onyx plates was coated with several layers of black lacquer, polished and cooked. The artist then carefully painted the pattern on the lacquer and sprinkled several times still wet drawing with 24-carat gold powder in different shades.
The decorum of the Pen of the Year (2016) in platinum-plated version is inspired in an original way to design the Vieux-Laque Room. Embedded in the platinum coated stem, the plates of black onyx contrast well with the natural maple grain. The fountain pen is available in a limited edition of 500 numbered pieces, the roller of 50 pieces only.