Statistics show that eco-tourism is moving from the fringes to the mainstream — a recent survey by analytics firm GlobalData revealed that 35 per cent of holidaymakers worldwide are now likely to book a holiday that minimises environmental damage.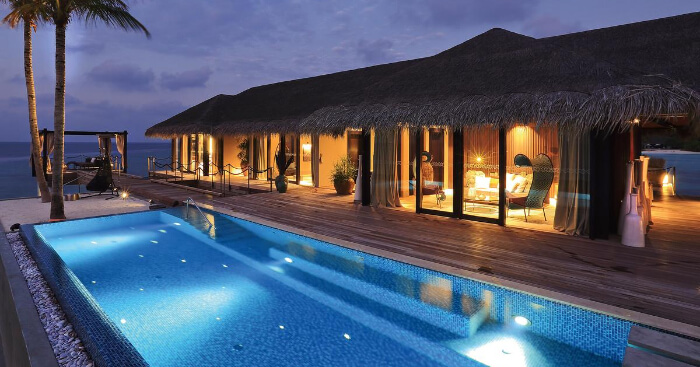 image source: here
But if you appreciate the finer things in life, thoughts of spending two weeks suspended in a scratchy hammock while hiding behind a tree 'when nature calls' can be off-putting.
But it is possible to organise a holiday that's green, serene, plush and posh — here are five top tips for luxury eco-travellers.
Location
It's tricky to reach far-flung destinations by any other means than air travel and this inevitably incurs a carbon footprint.
But this is offset to an extent at luxury eco-resorts like Oil Nut Bay on Virgin Gorda in the British Virgin Islands.
Apart from soaking in Caribbean views from your sumptuous cliffside suite, you'll enjoy exploring this car-free community by bike or electric buggy and savouring facilities like high-class restaurants and well-appointed spas powered exclusively by renewable energy.
Swimwear
If you're an eco-conscious water baby who loves whiling away the hours splashing in the surf or diving in the depths, you should ensure that your swimwear is made from sustainable materials.
And the good news is that green swimwear brands like OHOY Swim supply stylish, sleek and sassy one- and two-piece designs made completely from Econyl yarn — an upcycled material created from discarded nylon fishing nets.
By slipping into one of these swimsuits, you're contributing to keeping our oceans trim and tidy.
Beauty
Ethically sourced beauty and wellbeing products protect your skin and supercharge your constitution while minimising the impact on the environment — an elegant triple-whammy.
And if you want to be sure of the provenance of products, a sustainable beauty retailer like Kijani Living has all products analysed by a panel of expert nutritionists and dermatologists for origin, sustainability, effectiveness and ingredients.
Wherever you're headed, pack some hydration masks and digestive supplements from this type of firm to stay in tip-top condition.
Sunglasses
Sunseekers heading for the horizon without a good pair of sunglasses are asking for trouble — exposure to UV rays can cause untold damage to your eyes.
And green sunglasses gurus Crossed manufacture eco-conscious shades that could grace any catwalk or celebrity red carpet.
Made from natural materials like bamboo and featuring polarised lenses with UV400 protection, they're among the best the sun specs to be seen in if you care about protecting the planet.
Car hire
There's no point being picky about other aspects of your trip if you hire a holiday hire vehicle that spews harmful emissions into the atmosphere.
An environmentally friendly car hire company like Sixt offers electric vehicle options for destinations like the US, France, Germany and Spain — by booking ahead you might even bag yourself a high-spec model like a Tesla.
You can cruise around exotic locales in guilt-free comfort when your ride's free from fossil fuels.
Follow these five top tips for luxury eco-travellers for a fabulous holiday that doesn't cost the Earth.
What's your favourite green destination? Share your thoughts in the comments section.