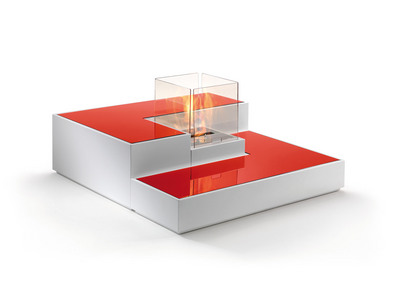 Tetris of Horus is an exclusive biocamino designed as a real table where the center is placed a hearth protected by glass. The split-level structure, made ​​entirely of stainless steel is rotatable and can be positioned and customized to suit your taste and needs. Tetris is an object of furnishing unpublished able to adapt to different situations and environments, and thanks to its modularity can be transformed into a system of tables which is almost infinite.
Lcd is a fireplace wall characterized by a colored "skin" following the burner body making the harmonious interplay between the structure and the glass that holds and protects the flame. Made of stainless steel, LCD is available in painted white or red.
Flower of Horus plasma brights as the petals bent to form the shape of the fireplace harmonizing appearance. It hangs on the wall like a painting, creating evocative settings even when the flame is extinguished. The play of color between black exterior and red hot inside enhances its ornamental essence. It is available in pink, red and white.