One of the most common problems when taking on a home renovation project is finding your design aesthetic & sticking to it! Whether you are starting from scratch or just embarking on a seasonal refresh of your favorite room in the house, without careful consideration your finished product can turn out a little conflicting in style.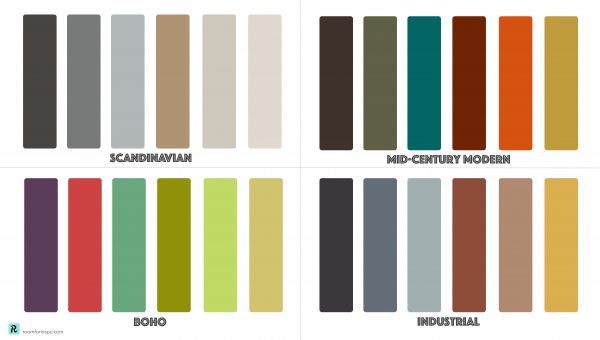 Taking on a project in your home is no mean feat. The first thing you should ask yourself is "what is my aesthetic?" What makes you go "ooooh" when you walk into someone's home? With endless design trends and blends of interior design styles out there, it can get a little overwhelming at times. We have put together a few tips and tricks in order to help you find your style before you start your next project.
Top Interior Design Styles of 2019/2020
Remember, for your house to feel like a home, it is important that you only take inspiration from the images you come across and feel no pressure to replicate them exactly. When researching these different design styles, you will most likely find that you sway towards a blend of aesthetics. Don't worry, This is normal! you just have to make sure that you are referencing the elements that still compliment each other. 
Every year there seems to be another design trend that is growing in popularity, however there has been a few that have stuck around (and we don't see them going anywhere soon).
Mid Century Modern

– This has been by far one of the most popular interior design trends of this year, and we are sure for many years to come. Mid Century Modern is all about the blend of the old and new. Creating Modern designs with traditional principles in mind. 
Scandinavian

– Originating in the Scandinavian countries of

Denmark, Norway & Sweden, this popular style cleverly combines classic minimalism, with that feeling you get sitting by the fire when it's cold outside. It is also often a preferred interior aesthetic for those with busy lifestyles.

Bohemian

– Often referred to as Boho, this style is not only specific to interior design but is also incredibly popular in the world of fashion. Mostly inspired by the 1960's & 70's this aesthetic incorporates earthy tones with natural materials, creating an eclectic mix of textures and patterns. 

Minimalism

– Lovers of this aesthetic often incorporate this style not only in their homes but their way of life. In a minimalist's home you will most likely find sleek lines with modern furnishing and white walls creating an open and airy space. Minimalism really is what it sounds like, Minimal! 
How can you get inspired? 
You would think that with the endless resources the modern world brings us, getting inspired would be easy as pie! However, we know that things can get a little overwhelming with the overload of information we have at our fingertips. You may be tempted to just settle for a simple internet quiz that claims it can magically tell you your aesthetic after just 5 Questions. Don't get me wrong, you may find that these do give you some guidance in your search, (and for sure, there are some more detailed quizzes out there) but there are lots of more exciting places to find inspiration.
Applications like Instagram & Pinterest can be a great modern alternative to the home design magazines you would find on the shelf at your local store. With plenty of images showcasing some of the best homes on the planet, paired with an easy search function, you'll be inspired in no time. 
Finding the right style for your home
As well as finding your aesthetic, it is important to consider the right style for your home. There will always be a way to embrace your aesthetic regardless of the space you have, you may just need to go about it with a different approach. 
For example, you may find that you have a small bedroom space to decorate but you absolutely love the mid century modern style where larger pieces of furniture are often prominent. Consider the functionality you need out of your space, you may need to make small sacrifices in order to obtain optimum functionality along with your style.  
Make an inspiration board
When decorating your home, the color of your walls & furnishings is obviously one of the main things to consider. With all of the design trends we have mentioned above, you may discover that they sometimes have clashing opinions of what is right and wrong. Just remember that you should be trying to create your own home & style, not trying to replicate what someone else has already done!
Color: What to consider
When deciding on the color palette for your home, we recommend choosing 3-5 colors to work with. These few colors should cover everything from wall paint to throw cushions. This limit on colors will help you to stick to one cohesive theme throughout without any nasty clashes in style. We will say that in recent years there has been some design trends that celebrate a very eclectic blend of colors, certainly not sticking to the rules we have outlined above. Like we said, this is your home so the most important thing is celebrating your style! 

Consider the natural light you have in your area. During your research you may find that some of your inspiration images feature dark walls, which may not be as appropriate for a space with little light. Of course we are not saying that you should scrap the idea completely, maybe consider alternative methods (such as accessories) to blend these colors in to your home.  
Shopping
Of course we all love a bit of arts & crafts, but it's a great idea to keep all of your inspiration together digitally. Utilizing some of the digital inspiration resources we previously mentioned such as Instagram & Pinterest will help you to stick to your theme when it comes to shopping for your items. Having your images there for reference will ensure that you don't get home and find you have fallen in love with something that doesn't fit! Once you have decided on your color choices, you should also include in your board any pieces of furniture you find during your research so you can look out for them when you're shopping. Finding the right inspiration can be a little overwhelming with hundreds of images you may come across on your search, this will really help you to stick to the plan.