In 2009, a Time magazine writer asked an important rhetorical question: "Can marijuana help rescue California's economy?"
The Golden State was plagued by layoffs, school closings, and foreclosures at the time, and Democratic assemblyman Tom Ammiano introduced legislation that would legalize cannabis delivery and related services. Marijuana was and remains California's biggest cash crop, and in 2009 it was responsible for $14 billion in annual sales. California was among the first states to legalize medical marijuana in 1996, and recently approved Proposition 64 to legalize the recreational counterpart.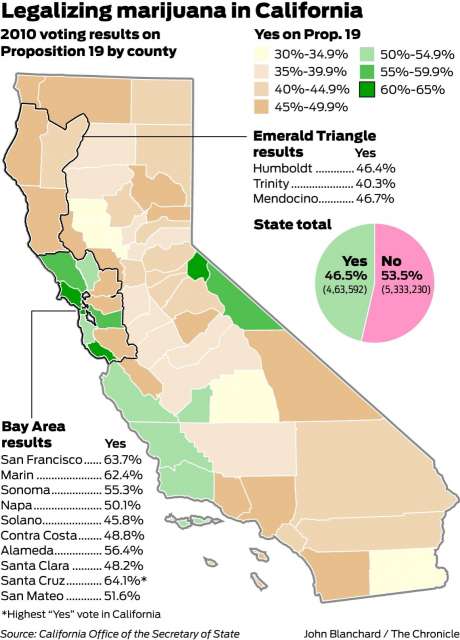 image source: here
Recreational marijuana will be available for sale as of Jan. 1, 2018; however home recreational use is legal at this time. So, how will the economy change now that recreational marijuana is legal?
Opportunity for Business Expansion
The marijuana news website, New Cannabis Ventures, predicts that the legalization of recreational cannabis will be a very significant opportunity for business expansion. It might be the biggest business expansion opportunity in the history of the cannabis decriminalization movement, thanks to California's role on the world stage. If the Golden State were a country, it would be the eighth-largest economy on the planet, according to the World Bank GDP. A serious increase in cannabis sales, tax revenues, and licensing is subsequently very likely.
Cannabis Market Size
Cannabis legalization is projected to increase the marijuana market by as little as $2 billion and as much as $10 billion. The largest variable in this projection is the price of cannabis, which currently ranges from $64 to $320 per ounce. Cannabis delivery services and similar outfits subsequently have the opportunity to rake in plenty of revenue.
Like Colorado Before It
The legalization of recreational marijuana in California is likely to do great things for the Western state, which already has a $2.7 billion-dollar medical cannabis industry. California is almost certain to follow in the footsteps of Colorado and other states that have enjoyed serious revenue increases since "going legal." Colorado legalized recreational cannabis delivery and similar services in 2012, and tourists spent an estimated $100 million at recreational dispensaries last year—and that's just the tourists.
Learn about Santa Monica marijuana delivery and marijuana delivery near me by contacting Green Door West today.