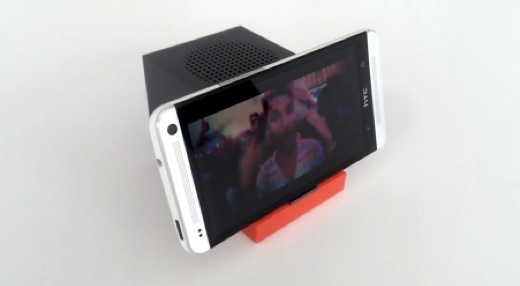 HTC Boombass is an interesting accessory for HTC One and HTC One mini which allows you to make the most of the double front speaker Boomsound. HTC Boombass, in fact, includes a pair of stereo speakers of the device with a small but powerful subwoofer that reinforces the reproduction of the lower part of the audio spectrum.
It's always quite difficult to convey in the video and the sound power output of any audio accessory, but the short film which is shown below makes it sufficiently eloquent. The compact base on which it is placed the Boombass HTC One moves literally on the table while playing the audio track due to vibration generated from the speaker placed inside.
There is a video that suggests a sound power important pending further testing "live".
The first information on the price and availability of the HTC Boombass in our market were circulated a few days ago from Expansys announced that an arrival by mid-October at a price of € 91.99, a figure which does not necessarily coincide with the official one provided by HTC .