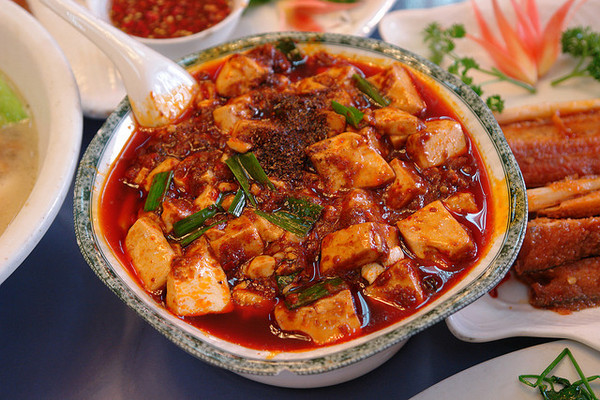 It is a dish of Chinese cuisine, but the Japanese are very fond of it and prepare it often. Its name is the Mapo Tofu (麻 婆 豆腐) and comes specifically from Sichuan. In China it is eaten with a very spicy sauce, but the recipe that is presented here is a little different, easy to eat with a Japanese touch.
Ingredients for 4 people
* 2 blocks Tofu 豆腐 (about 700g);
* 200 g of pork and beef mince mix;
* 2-3 crushed red pepper;
* 1/4 Japanese leek;
* 1 knob of ginger;
* 1 clove of garlic;
* 4-5 tablespoons soy sauce;
* 2 tablespoons mirin;
* 1 tablespoon sugar;
* 1 and 1/2 cups dashi (300ml);
* 1 and 1/2 tablespoons potato starch;
* 2 tablespoons vegetable oil;
*  sesame oil;
*  Japanese Sansho pepper (山椒);
Preparation
1.Put tofu in a paper towel and leave it there in order to remove  the water. Meanwhile, chop the Japanese leek, ginger and cut finely the garlic.
2. Cut the tofu into pieces about two inches square and boil in warm salt water for 1 to 2 minutes, then drain.
3. Combine the dashi, soy sauce, mirin and sugar in a saucepan and bring to boil. Keep warm until you use later.
4. Heat a little oil in a pan and add ginger, leek and garlic. When the aroma comes out, add the minced meat and fry.
5. Add the mixture of dashi and when it is boiled, put the potato starch dissolved in water and thicken.
6. Add the tofu and stir gently. Add sesame oil, chili pepper and chopped sansho and voila!!! It is  ready.