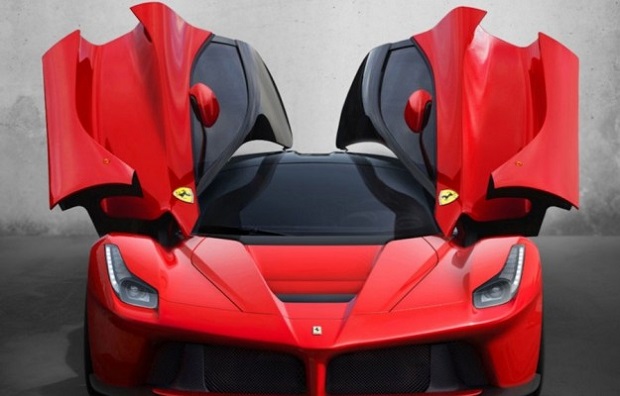 LaFerrari has been revealed officially in Geneva Motor Show. The new special series of Ferrari will be produced in only 499 copies but the beauty of the car and the expectations that circulated the Enzo are such that orders are already thousands. Ferrari reveals that the new jewel, the first hybrid in the history of Red defined by the chairman Luca Cordero di Montezemolo "the ultimate expression of the excellence of our company. It is an exceptional vehicle intended for our collectors which has in itself the technical solutions that will in the future be applied to models in the range and is the basis of comparison for the entire industry." The design and performance of Formula One for LaFerrari just like a dream. The year 2012 Ferrari saw record breaking success with a strong marketing strategy that has allowed it to make record sales. This is not enough to explain the appeal of the brand made in Italy able to renew and renew forever.
LaFerrari is just that, a small masterpiece on wheels that comes as a laboratory for the cars of tomorrow even surpassing the previous car of the Horse. The first Ferrari hybrid combines the most advanced technologies also borrowed from Formula One thanks to the innovative HY KERS. The thermal power plant is the culmination of the search engine, a V12 engine of 6262 cm3 with 800 hp and 9250 rpm maximum, a record for an engine of this displacement with a compression ratio of 13.5:1 and a specific power of 128 hp / l. All this is coupled with a 120 kW electric motor for a total power of 963 hp and an emission of only 330 g / km of CO2.
As far as performance goes LaFerrari screams as it goes from 0 to 100 km / h in less than 3 seconds with a peak speed of 350 km / h. If what Ferrari said is true, that the hybrid system does not work in all electric mode as it would substantially change the mission profile of the car, then they are already a step ahead of Maranello. The lap time at Fiorano is less all '1'20", 5″ faster than the Enzo and more than 3 seconds of F12 berlinetta which makes this LaFerrari the fastest road car in the history of Ferrari.
A true masterpiece of technology with a futuristic design that is able to maintain at the same time the link with the tradition of the Horse. The cost is approximately € 1.5 million and only 499 copies.