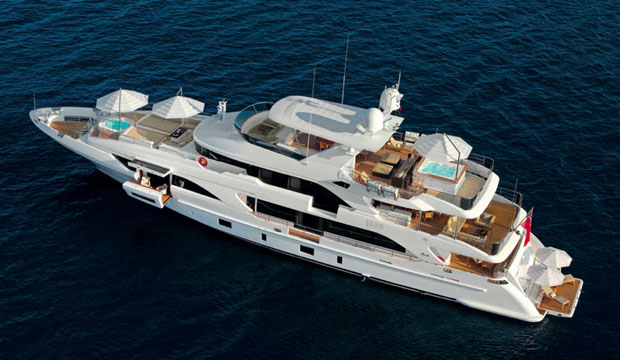 Petrus II is the name of the first hull of the new luxury yacht Benetti Classic Supreme 132. The design of this nautical jewel, which is a little more than forty feet, was driven by the need to offer the market a more competitive boat, along with the tireless striving for innovation in the shipyard which owes its magic. On the terrace in the master stateroom there is a Jacuzzi Dopia (at the upper bow deck, as well as on the sun-deck) and the external aerial ladders are just some of the innovations of this model, which offers high-volume indoor and outdoor use, combined with a high level of comfort on board.
The large windows in the main and full height within the upper-deck give more brightness to the decks and a much more sleek profile to the yacht. The design is amazing and we can perceive some details such as the fins of external pilot rotating retracts into the gunwale and navigation lights, thanks to the new design, integrate with external lines of the boat, making it more modern and attractive.
The interior furniture, at this first unit Petrus II, are made of natural oak and wenge enriched with hand-stitched leather. In the bathrooms are used a mix of marble and mosaics leather finish. As always, the interiors of Benetti Yachts are fully customizable. In line with the other models in the range Class, the Supreme 132 comes with innovative technological systems. The layout, the configuration and construction promises happy nautical experiences for the lucky guests. The model has four cabins, two VIP and two twin. Enjoy!