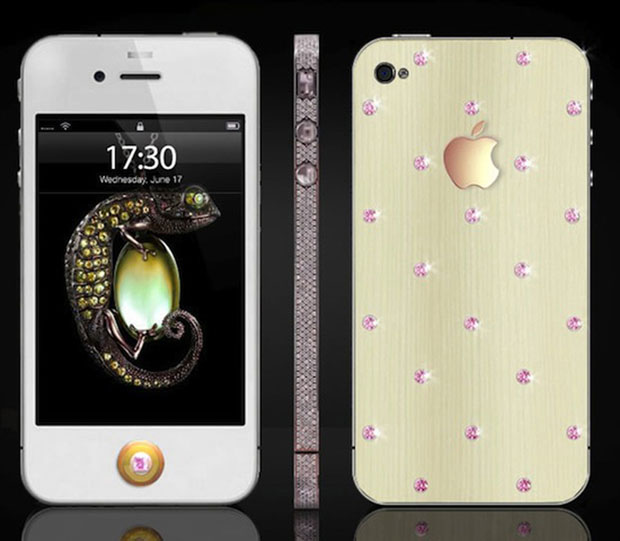 For those who love to flaunt a trendy smartphone there are so many models to choose from and there is a special one that was designed by Sun & Moon, specialized company that has created the Pink Diamond iPhone. The most famous creation from Apple has been revised into a version very feminine and chic with the choice of delicate shades like white and pink and explodes with precious stones. The Home button has been embellished with a large pink diamond princess cut, while the back is made of white wood with a cascade of gems to the delicate and rare pink.
Among the most luxury iPhones everyone can choose the one that best fits their style, seeming to individual pieces, such as the one made by Stuart Hughes at an incredible cost of six million pounds. For the Pink Diamond iPhone the price is much lower, though not quite to everyone: it is around 12 thousand dollars. The reason is obvious: in addition to the pink diamond the Home button and the choice, elegant and extravagant, back in white wood with precious stones, the frame is made of 18 carat gold and, thanks to a special technology, features 850 small diamonds that run on the board for a total of 4.33 carats.
In addition, the Apple logo is made with the "rubedo", an alloy of three special metals that together create iridescent shades. The only drawback is that the Pink Diamond iPhone is only available at the boutique Bon Cadeau in Moscow: the number of millionaires in the city will not be hard to find the buyer.