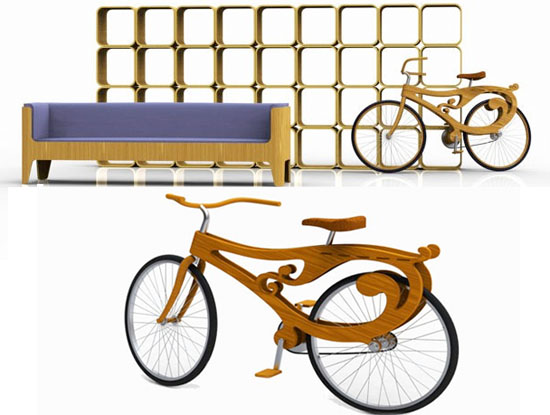 Art-Veil, the new motor trips of the 2013 collection of Pliny the Younger, designed by the designer Lorenzo Boni and Mario Prandina is based on the philosophy of the company, which since 1975 tells the increasingly topical social campaign in respect of man and the environment all through its products rich in ethical content. Contaminated by the Art Nouveau style, Art-Veil is the innovative bicycle produced in beech proofed ancient treatment with linseed oil.
The wheels are produced by a small wooden structure that in the early '900 realized what where the wheels of cyclists were once. It is vailable in two models: GT and Deco.
The Venetian designer Lorenzo Boni, after years of projects Magis (1994-1999) first and then for Kartell, Vitra, Driade, Cassina, Flos, etc.. alongside Philippe Starck (1999-2005), with Mario Prandina discovers a new world: that of wood made ​​by hand, the carpenter who made ​​the famous Made in Italy in the world and the ethical and ecological design.