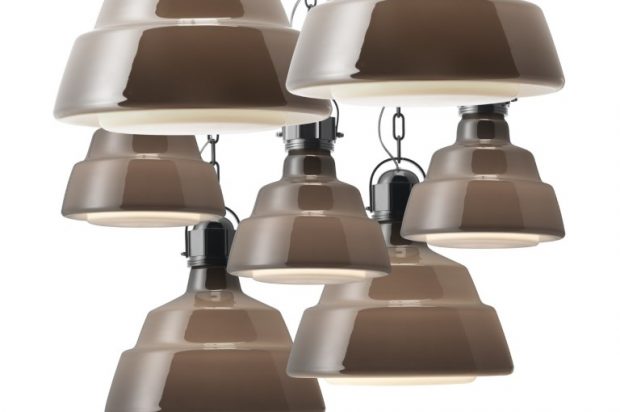 The collection of lamps "Successful Living from Diesel with Foscarini" is part of the Diesel Home Collection and is the result of the license agreement signed between the two companies in 2009.
It can be described as a prime example is the collection Glas: a really productive challenge, a large blown glass which is completely closed, an innovative finish that changes the appearance of the lamp when is turned on or off. Glas is a proposal for a vintage flavor, made current by the use of precious materials, such as glass blowing.
To further characterize it as a decorative element contributing to the chrome surface mirroring effect and details, including the chain that supports the suspended version or the counterweight of the model table. The inspiration comes from the world of work that lives in this contemporary interpretation of the classic workshop lamp used in factories and warehouses around the world.
Glas lives a double life, by day and by night: a lamp off the chrome aluminum finish glass diffuser returns a decorative effect to mirror uniquily and highly distinctive, the effect wears off once lit the lamp to turn into a luminous body uniform.
Glas illuminates the room with a glow and soft warmth, filtered from hand-blown glass, worked here with only a craft technique that has allowed us to completely close the diffuser element. The sharp contrast between the metal industrial archetypes that inspire and craft of hand-blown glass is exacerbated by a mirror that wears off when the lamp is lit to give way to a warm and welcoming color.