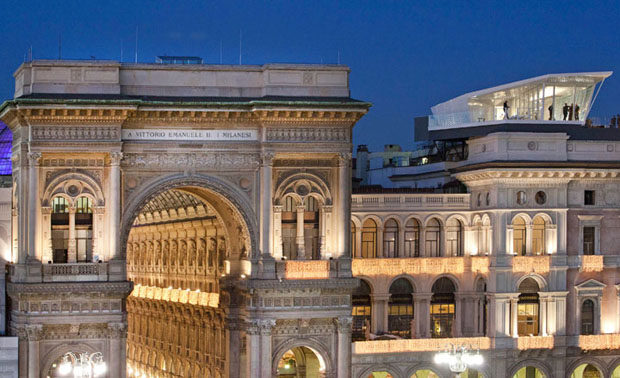 Great food and a breathtaking view. The Cube offers all this at least temporarily. Yes, because it is a temporary restaurant, a huge crystal structure overlooking Milan Cathedral, built on top of the building next to the monument symbol of the city of Milan. In its 150 square meters you can taste the cuisine and dishes of the best young Italian and European chefs, but until April 26, because then the structure will move to Stockholm and London. So you have to hurry, because the restaurant has only 18 seats, and you have to make a reservation of course.
The idea of Electrolux
The idea of ​​The Cube by Electrolux is a collaboration of young chefs from all over Europe. The company has created an experiment that combines the charm of the design to the taste of the best innovative cuisine. The restaurant is in fact a huge aluminum frame, laser-cut, where everything, from the walls of glass to the interior are made of Corian ™ bianc. The design is clearly inspired by Nordic and also offers a look at the spectacular haute cuisine. The cuisine is brought to light thanks to a folding table that appears on the request of the chef and then disappear at the end of dinner and leave space for guests.
Breathtaking views, spectacular design and exclusive ambient, but also food of high quality. The Cube will work on some of the best young talented chefs like Marco Colleoni of Vittorio Restaurant S. Martino in Treviglio, Andrea Sarri  of Bittersweet restaurant in Imperia and Christian of Manuel Costardi restaurant Christan & Manuel in Hotel Cinzia in Vercelli, all members of Young Restaurateurs d'Europe, an association that brings together the best European talents. The Cube is an opportunity to live a unique experience that can tickle all the senses: the only difference is to hurry, there is time until April 26!