BMW has been hard at work, bringing out many new models. The ones that left me with the strongest impression were the 4 Series Gran Coupe and the new BMW 4 Series Convertible. The new 4 Series Gran Coupe develops the idea of the 6 Series Gran Coupé, which eventually became a commercial success with sales relegating the 6 Series from a normal thing to an almost symbolic one.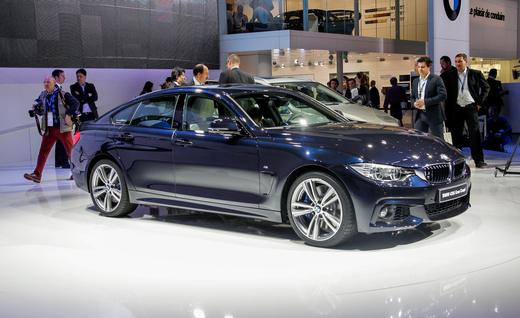 It is what the customers seem to want, to combine the elegance of a short drive, with sloping ceiling line, along with the practicality of four doors. That's exactly where the 4 Series Gran Coupe enters the view.
Regarding the Coupe, the 4 Series Gran Coupe measures are about the same. It is 12 millimeters higher to provide extra space for rear passengers reaching a height of 1,389 millimeters. Obviously it is lower than the 1,429 mm of the 3 Series.
It provides with 480 liters luggage cubes, same as the 3 Series Saloon, but adds the practicality of a large boot which will ease the burden of bulky items. The seats fold down, so for fans of action sports it will be easier to mount certain things such as bicycles inside your BMW.
We remind you that, as the 4 Series Coupe, the Gran Coupe employs fins and wider track than the 3 Series Saloon, which allows combining its facet with a lower roof line and better C pillar. This car has a more dynamic and sporty look.
The initial offering will be articulated with four petrol engines and three diesel engines. The six-cylinder petrol engines boast powerful performance figures of 306 hp and 400 Nm of torque. This means it can go from 0 to 62 mph in 5.5 seconds reaching a top speed of 155 mph. The fuel consumption levels are satisfactory with 34 average mpg and CO2 emissions of 193 g/km. The four-cylinder petrol engine is also great as far as efficiency goes. It achieves good performance with lower fuel consumption and emissions. Namely, whilst it's acceleration from 0 to 62 mph is done in 6.1 seconds, its fuel consumption is at 42 mpg with CO2 emissions of 156 g/km.
Finally there are the four-cylinder diesel engines which offer outstanding results. With 143 hp and torque of 320 Nm it is said to accelerate from 0 to 62mph in 7.7 seconds. All this, with an average fuel consumption of 60 mpg. It is truly impressive.