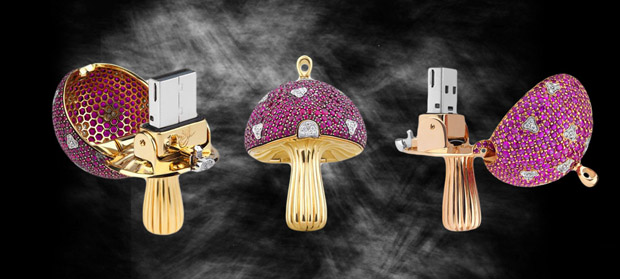 Luxury and technology are a match typical of our times, even in small items that have become commonly used in everyday life. Hence the idea of ​​making exclusive even a simple USB key, now used every day in the busy life between computers. So Shawish Jewellery, has designed a line called Mushrooms, small and delicate mushrooms with diamonds and precious stones which hide a usb. Not just a stick but real jewels, available in various colors depending on the chosen stones. The designer wanted to turn a common object into a real precious jewel. In fact we have already seen the creation that made famous the Shawish Jewellery, the ring completely in diamonds of 150 carats that costs 70 million dollars.
Attention to the forms, design and especially the luxury with a choice of gemstones can be recognized in the collection Muschroom, consisting of ten models. First you can choose the base material, yellow or white gold on which are then embedded stones. White diamonds, sapphires, emeralds or rubies combinations of stones make each a small Mushroom jewel. It goes from models with spiral decoration, or the most "classic", with the chapel of the fungus illuminated by white diamonds on which has been entered details of emeralds or rubies!
Each model has a 9.18 carat diamond, for rubies, emeralds and sapphires of 11.34 carats. Prices obviously vary depending on the model: $ 36,900 for one in white gold, emeralds and diamonds, $ 24,400 for the model in yellow gold, white diamonds and rubies, or $ 16,500 for the pink gold studded with pink sapphires and white diamonds.
The USB flash drives have a  memory of 32 GB.