Homes are often dismal places after winter; however, as springtime hits, people finally begin to break free from hibernation and colour starts finding its way back into the world again. Why not try the below tips to incorporate some of this brightness back into your living space.
1. Accessorise
Accessories are one of the most effective ways to bring life and colour into any living room, and are perfect if you're on a budget, as you can spend as little or as much as you'd like. Lamps, picture frames, cushions and candles are always easy inclusions in a living room and all come in a variety of shapes, colours and textures. Sufficient lighting or light covers are also important in the accessory department, as they will help to enhance the splashes of colour you use. Check out www.vinciliving.com.au for an array of ideas and inspiration.
2. A Feature Wall
Sometimes all you need is one wall to say BOOM – metaphorically speaking of course – and you will have a living room with instant colour and 'Wow' that you'll want to show off. If the wall colour of your living room is fairly neutral, pick a vibrant colour to paint just one small wall. The impact will be huge. Or, if you'd rather steer clear of painting, choose a bold artwork or print to display instead.
3. A Neutral Canvas
If you have a blank palette to work on, the colours you add are going to have twice as much impact on a living room. Whites and creams work best with bursts of colour, so think about repainting this room if it's not already sitting in that colour spectrum. Then choose a bright colour scheme that will tie all your accessories together.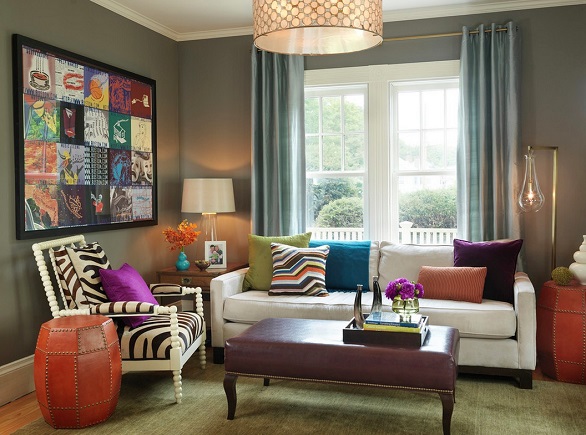 4. Add Statement Furniture
This tip is not about heading straight for the shops to deck-out your living space in entirely new furniture, but is about taking a closer look at what you've already got. Having a couch reupholstered in a solid colour is a great way to revamp a living space, or try adding a single-seater chair in a bright pattern to the room layout as a focal point. Coffee tables and floor lamps are another easy way to bring colour back through furniture.
5. A Natural Edge
Flowers and greenery can create a huge pop colour-wise, and are easy to bring into your home, as you can always grab some from your backyard, or your neighbours if you're feeling brave! A glass or metal vase when paired with a bright array – or one solid colour – of flowers will be a standout. As well, the thick green of leafy plants can be a perfect choice for a wall display, and will bring in colour as well as a welcoming, earthy touch.
Colour is everywhere. It provides energy, depth and life to any space, so should definitely be a priority inclusion in the living room. As you can see above, it's easy to adapt the use of colour to practically any taste, style or design, so there should be no more excuses not to have colour flowing freely throughout your house!
What are two creative ways you have brought colour back into your home? Include your answers in the space below.