Thailand makes the perfect destination for a honeymoon. You'll find everything from luxury, picturesque beaches and a range of activities to keep you entertained. And if you want to go somewhere for the nightlife or find a secluded stretch of beach, there's something for you here. So, whether you're looking into renting a house in Thailand overlooking the sea or want to stay at a five-star resort, you'll find this destination ideal for your honeymoon.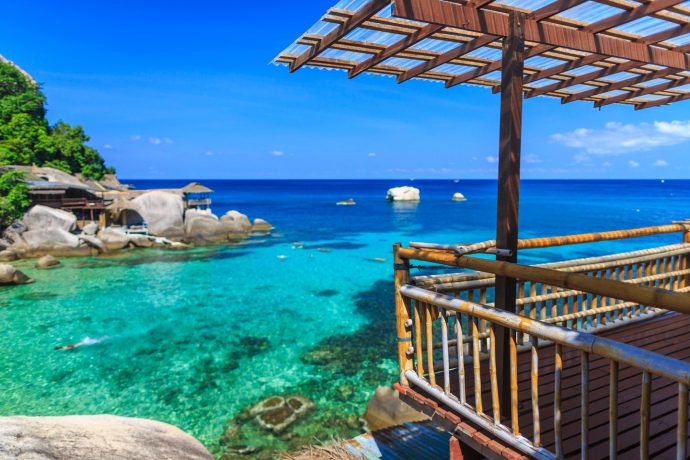 Why Honeymoon in Thailand?
There are so many places around the world you could choose for your honeymoon including the Caribbean, Seychelles or other exotic locations. You would be forgiven for asking what makes Thailand so special.
Well, Thailand may not have the climate and pristine beaches like other famous honeymoon spots, but the biggest difference is the cost. You should be able to have the holiday of your dreams for approximately half the price you would elsewhere. This means you can splurge on the very best resorts or vacation rentals and spend more of your time in the world-class spas. Thailand gives you affordable luxury.
Anyone who has visited before knows how friendly the locals are and how welcome they make tourists feel. You're free to explore the country without having to worry about safety concerns like in the Caribbean. In fact, you're unlikely to face any problems at all. And Thailand is easily accessible from most parts of the world. Daily flights from pretty much all major cities in Europe, Asia and Australia have direct routes to Bangkok. This means you can start your honeymoon without having the stress of connecting flights and waiting around airports.
What to Expect on Luxurious Trip to Thailand
Luxury means different things to different people. The rich and famous have much higher standards compared to the rest of the population. And as long as we're in a warm place with beautiful views, excellent services and a range of dining options, most of us are satisfied. In Thailand, depending on where you go, you'll get all three. The hottest honeymoon spots are on Thailand's islands or along the coastline. Others head to Bangkok and stay in glitzy city centre. Whichever you choose, you can expect world-class service in a beautiful location.
The Best Luxury Honeymoon Resorts in Thailand
Let's take a look at some of Thailand's most famous spots for a luxurious honeymoon. The resorts are the very best money can buy, and you'll be rewarded with incredible views from your balcony, swimming pools and a range of other amenities such as on-site spas, golf courses and al fresco dining choices. After spending a romantic few days together unwinding and relaxing after the stress of the wedding, you can really take your chance to recuperate at one of the following resorts in Krabi, Koh Samui and Phuket.
Krabi's Sofitel Phokeethra Golf and Spa Resort
Krabi stretches along the western coast of Southern Thailand with hundreds of kilometres of coastline, craggy cliffs and lots of islands. Sofitel Phokeethra is the definition of luxury in Krabi province. The resort hugs the coast with incredible sea views from your room. Just imagine waking up every morning and seeing the Andaman see with your special someone.
If you want to spend a few hours relaxing around the pool, you're in for a treat. Thailand's largest swimming pool at 7000 square meters in the form of a giant lagoon is at this resort. And if that's not enough, you can enjoy the onsite gourmet food, a 9-hole golf course and spas. Private speedboats take guests to the nearby islands too.
Koh Samui's Vana Belle
This Luxury Collection Resort in Koh Samui sits along the coast with views over the Gulf of Thailand. Honeymooners will be surrounded by rainforest and have their own private section of beach for resort guests only. The sea water is crystal clear and perfect for swimming and snorkelling. You can choose between 80 suites or one of the beachside villas and have access to a large swimming pool, fitness centre and an excellent onsite restaurant. Anyone who stays here will feel privileged and get a taste of the high life, which makes it a perfect spot for your dream honeymoon.
Phuket's Banyan Tree Double Pool Villas
If money isn't an issue, you can experience the highest level of comfort at Phuket's ultra-luxurious villa resort. A total of 24 villas hug the sandy coastline with views of the sea. You can wake up in the morning and be on the beach within a matter of seconds. The private stretch of coastline is perfect for an evening stroll with your partner and to sip a drink or two while watching the sunset. And that's not all. A wide variety of therapies, meditation classes and yoga are available to guests with an expert instructor on demand.
The most romantic part of this resort is the location. The villas will probably be the best you've ever stayed in, and the proximity to the beach creates an ideal spot for newly married couples to relax. After a sunset stroll, head back to the villa and ask one of the chefs to cook up a gourmet dinner and eat it al fresco under the stars. What can be more romantic than that?
Thailand's Perfect Honeymoon Spots
Thailand has everything a couple could ask for on a romantic honeymoon. Affordable luxury in a tropical paradise with incredible views, spas and places to relax. If you're still not sure, search online for the resorts and see for yourself just how incredible they are. Almost everyone who chooses this destination always has a honeymoon they'll remember for the rest of their lives.