Brides can be grouped into two categories: those who look for the most reasonably priced wedding gowns, and those who prioritize style and don't care much about the cost. If you belong to the latter, you'll want to look at these pricey dresses that are worth every penny that's spent on them:
Nicole Richie's Wedding Gown ($20,000)
Let's start with the (relatively) cheapest so you don't get a heart attack. When Nicole Richie married Joel Madden in 2010, the celebrity wore a long-sleeved gown that was designed by Marchesa and cost $20,000. The upper half of the gown was made of lace, while the bottom half was made of over a hundred yards of silk organza tulle.
Kim Zolciak's Wedding Gown ($58,000)
What makes this gown unique is that it was not brand-new nor custom-made for the bride. Rather, Kim Zolciak bought it secondhand from an online shop that sold pre-owned wedding dresses. At almost $60,000, the silver gown wasn't exactly a steal, but imagine how much it would have cost when it was brand-new! It was made of duchess satin and decorated with pearls, beads and Swarovski crystals, which made it weigh around 32 pounds.
Jessica Biel's Wedding Dress ($100,000)
This gown stood out not just because it was expensive but also because of its unconventional color. Instead of wearing traditional bridal white, Jessica opted for a dress made of pink-and-white fabric that designer Giambattista Valli made just for her. The bride reveals that the dress "moved like a dream" and that she felt elegant when wearing it.
Melania Knauss's Wedding Dress ($125,000)
The upcoming First Lady of the United States wore a beautiful Christian Dior gown on her wedding to Donald Trump. The dress was made of Duchess satin (almost 300 feet of it), and its 13 foot-long train was paired with an even longer 16-foot veil. Melania reportedly found it hard to walk in the voluminous gown, so she changed into a lighter dress for the reception.
Princess Diana's Wedding Gown ($150,000)
It doesn't seem appropriate to put a price tag on one of the most iconic dresses of all time. However, it's worth noting that the entire world was eager to watch the royal wedding, so the designers had to pull out all the stops to create a gown that complied with royal tradition while reflecting Diana's personal style. The result was a silk taffeta gown that featured puffy sleeves, antique lace, and a 25 feet-long train. The dress reportedly cost $150,000 back then, equivalent to around $400,000 now.
Mauro Adami Platinum Wedding Dress ($372,564)
Nobody has worn this gown yet, but those who are willing to spend hundreds of dollars on it won't regret their decision. The dress is made of high-grade silk fabric and sewn with platinum thread, which gives it a distinctly metallic look and feel and makes it stand out from the crowd. Intricate hand-embroidered patterns add visual drama to the gown and make it even more eye-catching.
Amal Alamuddin's Wedding Dress ($380,000)
Considering that George Clooney and Amal Alamuddin spent around $8 million on their wedding, it's no surprise that the bride would wear a gown that cost almost $400,000. Designed by Oscar de la Renta, the dress was made of more than 40 feet Chantilly lace and embellished with beads and embroidery. Amal has revealed that she and George chose Oscar de la Renta to design the gown because they believed he could capture the romantic and elegant mood that they wanted for the wedding.
Kate Middleton's Wedding Dress ($400,000)
This gown blew many people's minds away because, even though it had simple design, it effectively helped Kate Middleton transform into a royal bride fit for a prince. Designed by Sarah Burton for Alexander McQueen, it was reportedly inspired by Grace Kelly's wedding dress — as evidenced by its high collar and long lacy sleeves. Clarence House has not officially revealed the cost of the dress, although many estimate that it was priced at around £250,000 or $400,000.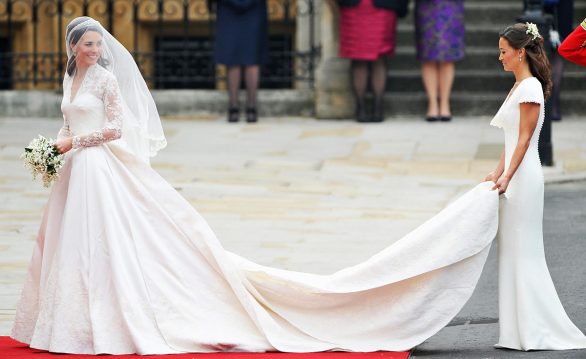 Kim Kardashian's Wedding Gown ($400,000)
Kim and Kanye have a knack for doing things extravagantly, and this is exactly the approach they adopted when planning their wedding. Aside from flying their loved ones to Florence, Italy, and renting a historic venue in the area, the couple decided on a custom Givenchy gown that cost $400,000. The cost apparently was worth it: the bride looked gorgeous and radiant in the silk and lace gown, whose sheer panels highlighted her curves.
Vera Wang Peacock Dress ($1.5 million)
Rumors say that Vera Wang made this dress for Jennifer Lopez's wedding to Ben Affleck. Unfortunately, the couple broke up before their big day could happen, so the dress became unworn. It reportedly took eight people around 40 days to complete the dress, which is made of 2009 peacock feathers (to reflect the fact that it was made in 2009).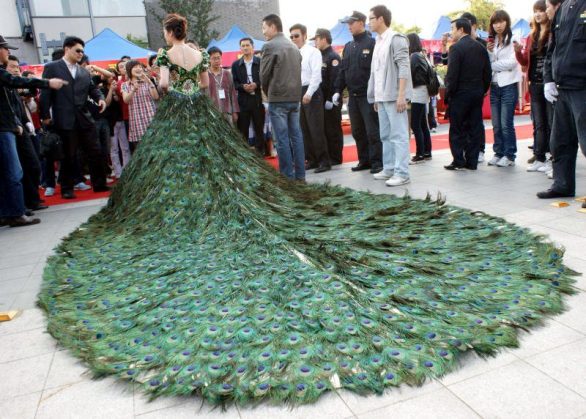 Renee Strauss Diamond Wedding Gown ($12 million)
This is probably the most expensive wedding dress on earth, and we'd like to see which millionaire or billionaire would snatch it up for their nuptials. It's designed by Renee Strauss, who teamed up with jeweler Martin Katz to come up with this mind-boggling creation. Its design reflects the traditional bridal style, although it easily stands out from the rest because of the 150 carats' worth of diamonds that embellish it.
Whether you're willing to spend top dollar on your dress or want to get the look without the price tag, these weddings will surely be a great inspiration for you!