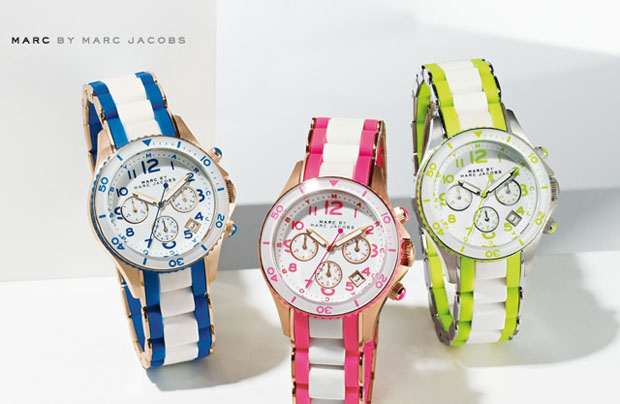 From the chic look to modern pop and metropolitan style are characterized the new luxury accessories called Marc by Marc Jacobs arriving in boutiques throughout Europe. Trendy creations yet luxurious, cured in detail and in a particular way that you do not expect. There is also the latest cover for iPhone 5 in bright colors and bold patterns, lettering, optical and geo.
The bags both for her and for him, is an accessory that is a must. They have a great style, are made of quality fabrics, silhouettes and minimal city, but are well shaped, in a carved and polished skin and is one of the preferences of the house for the spring and summer season 2013. We find it in the folder from office by man Robbie, simple but elegant and rigorous lines.
For Valentine's Day 2013 here is the luxurious Ribera signed Marc by Marc Jacobs, luxury watches in rose gold, white and yellow, with the dial studded with diamonds, feminine and glamorous enough. If you want to impress with a different cadeau, geeks and more light-hearted, the covers are perfect for black & white tablet-shaped stylized animals.